A floating hardwood is very similar to engineered hardwood flooring, and it actually floats on the supplementary floor. This flooring material is installed using the snap and lock technique. Floating floor planks are connected to each other like a jigsaw puzzle. A reliable floating floor has 3-7 layers of wood similar to plywood that makes its amazingly stable and strong.
Floating hardwood floors manufacturing mechanism divides it into two variations:
Sliced Cut Veneer – In this method the hardwood layer is sliced like typical timber that displays finer graining. This method is very expensive.  However the advantage it has is that it displays the true look of wood graining.
Rotary Cut Veneer – In this method the hardwood is peeled from the log with the help of big lathes. This method displays a wilder graining to the floating floor.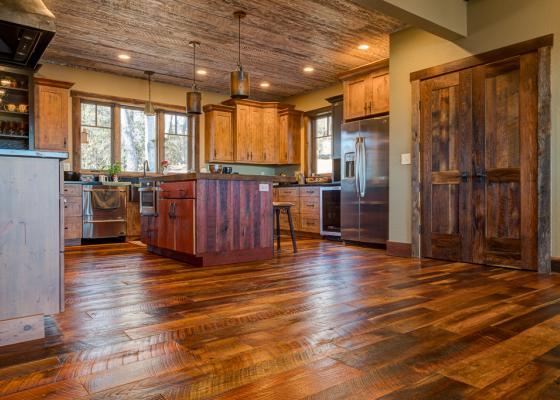 Advantages of Installing Floating Hardwood Floors
This flooring material is extremely sturdy and strong because of its composition that consists of 7 layers of wood.
This material is ideal for use in areas where there is extreme humidity changes as it can expand and contract conveniently.
Floating floor boards are connected to each other using the tongue and groove mechanism or glue making it a single unit. So expansion or contraction happens as a whole on the floor.
This material is also extremely resistant to moisture and can be installed even in your basement where there are chances for a high moisture atmosphere.
Floating floor can be installed in any area of your home. This flooring material is available in a wide range of colors, patterns and designs.
Depending on the thickness of the flooring, it can be refinished and sanded professionally over the life span of the floor.
This flooring material saves the time and mess to search for a carpenter as it can be effortlessly installed by you.
Floating floor has longevity and lasts a lifetime. It is very convenient to install because of its tongue and groove mechanism. This mechanism provides a secure and tight fit for the flooring without any gaps in between.
Disadvantages of Floating Hardwood Floors
This flooring material is comparatively thinner and light as it floats on the secondary floor.
The resale value of your property tends to reduce compared to traditionally mortared or nailed tile or hardwood.
Floating floor enables you to get the amazing appearance of solid hardwood. It presents you the beauty and warmth of genuine hardwood under your foot.