What is Mushroom Board?
Sometimes referred to as reclaimed hemlock wood or mushroom wood, mushroom board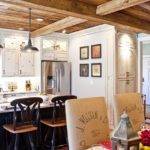 More is made from softer woods like hemlock, cedar and cypress.
Mushroom Wood comes from reclaiming wood in commercial mushroom growing beds and is ever-growing in popularity due to its natural beauty.
Mushroom Board For Sale:
Appalachian Antique Hardwoods' Mushroom Board is harvested from commercial beds from around the world.  This unique wood has endured years of acid laden compost, moisture, and abrasion and as a result is one of our most favored character woods. Its unique washboard-like surface can be augmented with a variety of different mechanical surfacing options. The natural honey brown coloration and dark black knots make it an easy selection for a rich wood with lots of character
In reclaimed + old-growth wood referring to the ring pattern…. Mushroom Board is an excellent choice for wall and ceiling treatments, cabinetry, door making, and exterior applications.