1.) Reclaimed Wood as Furniture
Reclaimed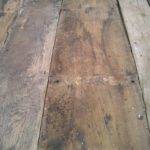 Found and rescued from an unused source. More wood makes for stunning yet simple furniture. In this photo, we have three unique pieces including a dresser, nightstand and coat rack. The oil base finish applied to these pieces bring out the rich color tones and texture. The different colors of old reclaimed wood can make a great accent to just about any home/room.
2.) Reclaimed Wood as Fireplace Mantel
Reclaimed wood can be used to add subtle accents to any home or outdoor space. A hand hewn mantel adds rustic appeal to any stone fireplace.
One of the hallmarks of reclaimed wood design is the process of mixing and matching unique finishes. A perfect example can be seen in this gorgeous photo. Mixing our painted wood with natural colored barn wood, gives this kitchen dimension and appeal.
4.) Reclaimed Wood as Cabinets and Hood Vent
Cabinetry is considered the heart of the kitchen. Custom cabinets are a great way to organize your space in an efficient manner and get a unique look and feel. Using reclaimed wood ensures you will have a one of a kind look with variation in textures and tones.
5.) Reclaimed Wood as Ceiling and Support Beams
Reclaimed wood is just like any other finish in regards to having the ability to cater to a variety of styles and tastes. In this photo, the use of reclaimed wood is present in both the ceiling and the beams giving this room a very modern feel while displaying vintage details.
6.) Reclaimed Wood as Horizontal Wall Finish.
A simple yet unique way to create an accent wall is to use painted barn wood. Here, planks of painted reclaimed painted barn wood are arranged to create a stand alone accent.
Reclaimed wood can be used for almost anything imaginable. In this photo, Reclaimed barn wood is seen on the ceiling and veneer pieces are used as shelves, both which complement this clean and fresh looking room.
The use of painted reclaimed wood is extremely popular as it adds another level of dimension to any room. This white painted reclaimed wood displays all the imperfections and saw cuts that makes reclaimed wood so desired.
Creating a historic and vintage atmosphere can easily be achieved through reclaimed wood. Here is a prime example of an open living space that screams rustic/historic. The richly stained wide plank flooring offers a warm and soothing orange glow while the reclaimed beams and ceiling bring you back to a truly historic time.