Call your builder! Don't swing another hammer till you've seen these incredible barn door applications you hadn't thought of using in your new rustic home or remodeling project!
1.) Epic Screened In Patio with French Barn Doors
This immense outdoor living space leaves a lasting impression on you inside and out! These carefully handpicked reclaimed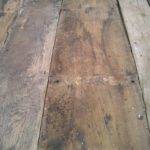 Found and rescued from an unused source. More barn doors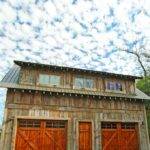 Doors made from reclaimed wood or new wood designed to look ... More really set you up for just how awesome the space is before you've made inside. The color, quality and character
In reclaimed + old-growth wood referring to the ring pattern... is apparent immediately from a great distance.
The screened knockouts allow you to get a sneak peek of what you're in for exposing a magnificent stone fireplace and reclaimed barn wood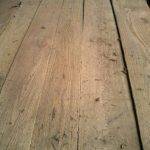 Morewood ceiling
The overhead interior surface of a room covered in wood. that seemingly goes on forever.
2.) Magnificent Interior Wall Treatments
These reclaimed barn doors have been re-dressed to impress the character and size of these barn doors makes the room seem to grow in size right before your very eyes, pulling the wide plank oak flooring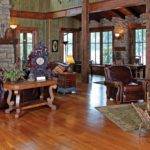 More to it and pushing the ceiling up above it. This dramatic effect is further enhanced by the offset iron suspension framework holding it up against the wall giving it a sense of functionality. The weathered red barn wood hues set the reclaimed barn doors apart from the rest space adding another layer of intrigue to the varied layers of reclaimed antique
Anything of a certain age such that it is coveted for having... More hardwood throughout the space.
3.) Dramatic Suspended Sliding Barn Doors
Barn doors aren't just for the outside of your barn, patio or home anymore. These dramatic suspended sliding doors are made with, you guessed it, reclaimed barn doors. This modern yet rustic looking barn door application is a must have in any modern interior space that needs that extra pop between rooms. The bright natural finish and rot iron hardware really set this high functioning piece off with a stunning but simple appeal.
4.) Timeless Exterior Barn Doors
This might seem like your garden variety exterior door. The subtlety of this reclaimed barn door is what makes it's beauty. The varied width reclaimed wood planks give highlight to the strong and sturdy reclaimed antique oak wood bones and vice versa, making the surface of this reclaimed barn door truly mesmerizing to look at. Adding this style door as an accent for the outside of your home the simplicity makes it an excellent choice for a side or rear entrance, really upgrading the look of your home in a place that is often left forgotten.
5.) Amazing Dutch Split Barn Doors
A perfect example of form and function coming together to make the most out of any entrance way for both interior and exterior applications. Dutch split doors were originally created to keep dirt dust and leaves out while allowing for fresh air to keep on flowing in. These old world style dutch split barn doors have been repurposed to divide to rooms, a genius alternative to the frustrations that baby gates might create. The reclaimed hardwood used in these doors exudes character making a simple thing an unavoidably interesting conversation piece.
6.) Unheard of Kitchen Pantry Barn Doors
Who said the pantry doors had to be boring white vinyl on rails? These barn doors, repurposed as pantry doors will step up your kitchen remodel in a big way. Especially if you consider taking on the reclaimed timber veneers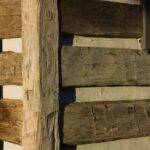 for your door frame and trim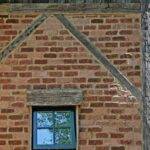 Additional decrotive piece of wood that adds contrast to a d.... With antique rot iron hardware and an amazing natural weathered finish you'll never think of the pantry entrance as an eyesore again.
7.) Slick Suspended Sliding Barn Doors for Bedrooms
These amazing suspended sliding barn doors really tie into the space, setting of the wide plank reclaimed hardwood flooring and is a huge improvement to the functionality of the home freeing up both the hallway and bedrooms for more usable square footage, also note the iron hardware and superb natural finish. The character of the wood used in the antique wood framing and reclaimed barn doors is truly amazing.
8.) Formidable Exterior Barn Doors
These french style barn doors guard the entrance to a beautiful stone mason work shed or horse stables with a distinct red color and refinished wood bones an impressive feel has been achieved here. Giving what would otherwise be just another doorway/entryway a very appealing and colorful look, making the most out of it.
9.) Magnificent Working Garage Doors
These huge reclaimed wood barn doors really make a big impact on this separated garage/workshop adding a big pop of color warmth and character to the the beautiful reclaimed barn wood siding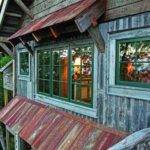 Siding made from barn wood More on the exterior of this large timber frame barn style structure. Not only are these vividly finished, antique barn doors unimaginably beautiful they are fully functional garage doors that roll up, hinging at the almost unnoticeable seams, quartering the doors horizontally. This garage, because of it's barn doors, is most likely the talk of the town.
10.) Classic Main Entrance w/Ironclad Barn Doors
Last but certainly not least, these traditional, iron clad barn doors add an inviting but quirky feel to the front entrance of this beautiful home. The color finish stands out nicely from the surround reclaimed barn wood and the beveled embellishments give these barn doors a sturdy yet welcoming character.
There are many ways to use reclaimed barn doors in home building and remodeling projects. Our top 10 list is just the icing on the cake. Tell us about your creative uses for antique barn doors and send in pictures. You may even have your rustic home featured in our blog or ideabooks.